RockX Partners with the Cronos Community
RockX, one of Asia's largest crypto staking and data providers, has offered access node support to the Cronos blockchain community. These products are an extension of RockX's current access node offering across other mainstream blockchains.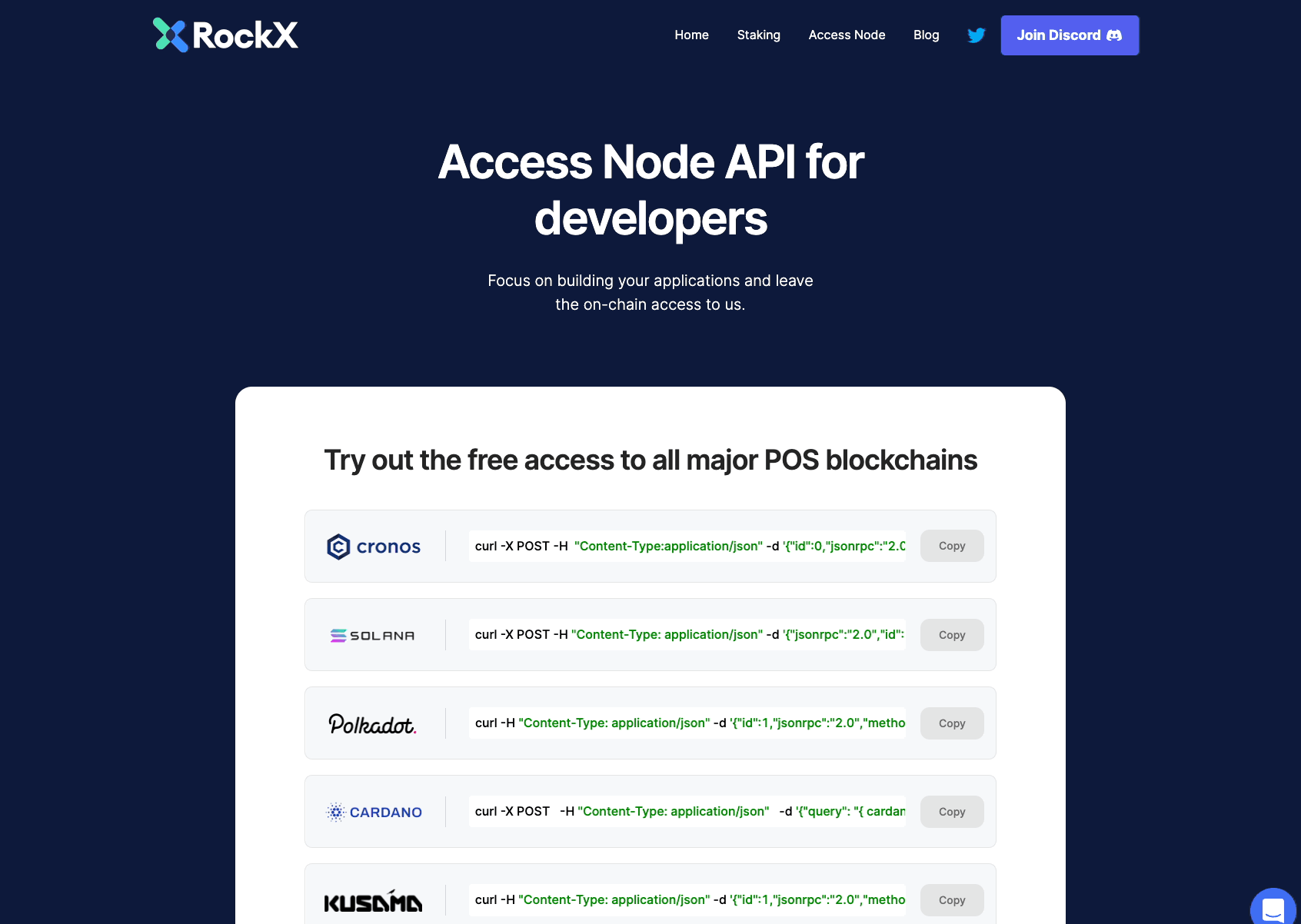 Via RockX, users will get instant free access to Cronos blockchain
Cronos, the EVM compatible blockchain backed by Crypto.com has seen great success since its launch in November 2021 with more than $4b total value locked and 600,000 unique wallet addresses.
In response to the growing community and ecosystem development, RockX has opened up free Access Node APIs to anyone who would need on-chain data access on the Cronos blockchain. Via the public URL on https://www.rockx.com/access-node, users from any part of the globe can instantly access Cronos blockchain data to build innovative dapps on top of it. The free version allows each individual to send up to 300k requests per month without charge.
Various value-adding products tailored to more rigorous users and enterprises are also available right now
As a fast-growing ecosystem, RockX also recognizes the need for high request limits and more data type inquiries, such as archive mode, by dapps and enterprises. Therefore more powerful subscriptions are also available with customizable offerings. Customers can contact the RockX team at inquiry@rockx.com for subscription options.
Self-service subscription portal and more services coming
With RockX's upcoming simple one-stop access node portal, users can easily access both the free and paid subscriptions, setting up their connections in minutes. By taking this 'plug & play' approach, RockX continues to reduce the complexity of dapp development, allowing developers to build on the Cronos network, which hosts a strong community of more than 10m users.
Chen Zhuling, Chief Executive Officer, RockX, said: "Crypto.com has built a reputation of quality and value, and the Cronos blockchain is a clear example of this with the amount of interest it has received in such a short time. Combining this with the trust and confidence our investors have placed in us makes us uniquely positioned to become the leading global staking and data services provider for the Cronos ecosystem. RockX is excited to play an integral role in the future of the Cronos blockchain."
Ella Qiang, VP of Ecosystem & Partnerships, Cronos, said: "We've seen tremendous growth of the Cronos dApp ecosystem, with the pressing need to scale up Node API and enterprise-grade node infrastructure. We are excited to collaborate with RockX to provide robust infrastructure and tooling to all Cronos developers with various needs."
About RockX
RockX (www.rockx.com) is Asia's one-stop gateway to crypto finance and blockchains. The team is equipped with a wealth of experience in mining, staking, protocol research, and infrastructure design. In recent years, the company has built access node APIs for popular Layer 1 and 2 protocols for developers, and helps companies to seamlessly access and interact with blockchains.
With over USD 900 million worth of tokens staked, RockX is one of Asia's leading staking platforms. Focusing on serving institutional and high net-worth clients globally to compound their returns on cryptocurrencies, RockX is always open to collaborating with synergistic partners & innovative Web 3.0 projects, ultimately helping to build the decentralised financial ecosystem.
About Cronos
Cronos (https://cronos.org/) is the first Ethereum-compatible blockchain network built on Cosmos SDK technology. An open-source Layer 1 chain, Cronos aims to massively scale the DeFi and dApp (Web3) user community by providing builders with the ability to instantly port apps and crypto assets from other chains while benefiting from low transaction fees, high throughput, and fast finality.
Cronos mainnet has been live since November 2021 and is already home to more than 200 partners and more than 600,000 DeFi and NFT users. Cronos is powered by the Cronos ($CRO) cryptocurrency, which counts more than ten million holders and users worldwide.